Welcome to The Orchard Campsite. A family-run campsite in Suffolk, we offer relaxed camping for tents and caravans, as well as our Safari tent…
Imagine an evening in the picturesque Suffolk countryside beside a real campfire. Glance up at the clear night sky and see a vast canopy of stars glinting above. Sip on your glass of wine as the logs crackle on the fire and your family and friends laugh.
A mere dream? Not at all! That's the experience of many hundreds of visitors to the Orchard Campsite.
The Top Ten reasons our clients give for returning to The Orchard Campsite year after year…
1. No third party booking agencies – when you book you can discuss your exact requirements with Alan, the owner, or his son Stuart, the site General Manager.
2. No check-in times – you can arrive whenever our site shop/reception is open AND even better …
3. No check-out times – so you can stay until midnight on the day of departure. This means you can relax and enjoy the site for the full duration of your holiday.
4. 'Free pitching' – we don't have numbered pitches, you simply take up the amount of space you need.
5. Personal service from the owners – if you have a question or query during your time at The Orchard you will always be able to meet with Alan or Stuart, who will do all they can to ensure you have a brilliant time.
6. Our super-handy onsite shop. Forgotten your toothpaste or tent pegs? Need a snack or a bottle of wine? Make sure you check out the shop on arrival. We also stock a great range of wine, beer and spirits from around the world for you to try, and a range of hot and cold beverages. Perfect for your morning pick-me-up or your evening tipple!
7. The free glow-stick frenzy for the little ones – every Saturday (plus Wednesdays during school holidays).
8. On-the-ground campfires – there is nothing quite like sitting around the fire with your friends and family, chatting and laughing and toasting marshmallows. Our wood is from a local renewable source. One tree is planted for every tree cut down.
9. Our simple inclusive pricing – you pay only for your pitch and any electricity you use (on electric pitches only). We do not charge extra for cars, awnings, dogs, children or visitors.
10. You can camp as a group – we are a relaxed and sociable site and are very happy to accommodate group bookings. Its a great place to have a birthday get-together, family reunion or celebration!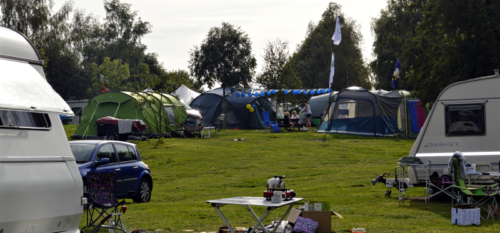 Your new favourite holiday destination: the Safari Tent at Orchard Campsite. Sleeps four and comes fully equipped, you even have your own loo and shower!